Shindaiwa's Done It Again
Hybrid 4® engine technology is the absolute best choice available today, and it's brought to you by the same legendary Shindaiwa name that introduced the renowned T27 Trimmer, the revolutionary Speed-Feed head, and the versatile PowerBroom™. Hybrid 4 is the latest innovation representing the next generation of engine technology that blends the best parts of 2-stroke and 4-stroke engine technologies.
The Best of Both Worlds
Historically, most outdoor power tools were powered by 2-stroke engines which are lightweight, easy to maintain with few moving parts and have excellent power-to-weight ratios. But since the early-1990s, manufacturers have been under regulatory pressure to achieve lower exhaust emissions.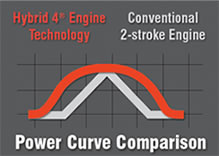 Four-stroke engines inherently offer a much cleaner-burning alternative to provide lower emission levels than even the best 2-stroke engines, but add weight to the product.
So Shindaiwa's low-emissions engineering team believed a "hybrid" engine, blending the best elements of two-stroke and four-stroke technology, would provide an ideal solution for the handheld products. The result is Hybrid 4 Engine Technology.